Health Care Reform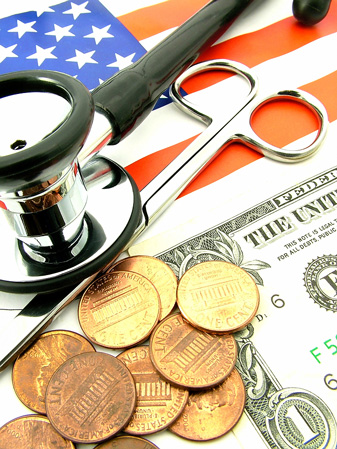 Insurance is a tool used to help spread the risk for large expenses. Insurance companies don't actually print the money in the basement to pay claims. They collect premiums and pay expenses. As inflation, technology, drugs and advancements drive up the total costs of health care, premiums increase with it. When the government mandates that you provide "free preventive services" that really means premiums need to increase to cover all those free services.

The safety net of society was already established with Medicaid, and our own California version of MediCal. People without much in the way of assets and income had government health care in place already. The American system says that you can get benefits that are better by paying premiums for your own coverage, or having coverage through your employment.

The effects of the landmark 2010 Patient Protection and Affordable Care Act were phased in over several years as the expansion of coverage took effect. On June 28, 2012, the Supreme Court confirmed the constitutionality of the individual mandate. The Court also held that states may opt out of the Medicaid expansion for adults. States now have the option to expand Medicaid or not. California has opted to expand Medicaid, which is our Medi-CAL. What did your State do?

Do you feel better already? Your new preventive benefits covered at 100% took effect with the plan year that started after September 2010. Coverage for dependent children was also extended until they turn 26, so some of the user friendly features are already helping clients.

The initial ACA open enrollment ran from October 1, 2013 to March 31, 2014, whereby guarantee issue individual insurance was offered by insurance companies and California Exchange, the Covered CA. If you're not in Open Enrollment, you will not be able to get coverage unless you experience a Qualifying Event. Dental applications may continue to be submitted after Open Enrollment ends. OPEN ENROLLMENT for 2020 will re-open October 15, 2019 and will end on January 15, 2020.

Even the government wants you to take healthcare into your own hands at http://www.healthcare.gov/law/timeline/index.html where you can lean more about the healthcare law and you.
How much money do you make? How much money comes into your household?
"Modified Adjusted Gross Income" (MAGI) This calculation applies to the FAMILY HOUSEHOLD applying for insurance coverage. Add the INCOME of the relevant household members, applying the income modifications as required. Use the calculator at www.CoveredCA.com to help you.
Income less than about $17,237 for an individual indicates you are better served by Medi-Cal or Medicaid, as would a family of four making less than $35,535.
In order to make insurance less of a burden to a family, we look to the Federal Poverty Level (FPL) to see where your income indicates you are. If your income falls between zero and 138% of the FLP, then you should take advantage of the new and improved Medi-Cal system (the Federal Medicaid system).
Medicaid Expansion for Adults
In the ACA, Congress required states to expand Medicaid to all adults, including parents and adults without children, up to 138 percent of the federal poverty line. To ease the fiscal impact on states, the federal government is covering 100 percent of the cost of the newly-eligible adults in the first years of implementation.
Over time, the federal government's share of the cost of covering newly-eligible adults will taper down, but it never falls below 90 percent. As a result of the Supreme Court decision on the ACA, states can decide that they do not want to expand Medicaid. California has opted to implement the expansion to 138 percent of the federal poverty line for adults (previously the ceiling was up to 133 percent).
The ACA makes other notable changes to Medi-Cal including:
• Requiring use of a simple, streamlined application for Medi-Cal and other insurance affordability programs
• Eliminating asset tests for children, parents, pregnant women and non-disabled adults
• Adopting new ways of defining income when evaluating eligibility in order to allow for better coordination with other insurance affordability programs
• Creating a new requirement to cover former foster care children up to age 26
The Healthy Families program has helped a lot of children have coverage for healthcare and has been a good options for lower income families in the past.
Going forward into 2018, TLICP – Targeted Low Income Childrens Program will provide coverage for those who fall below 250% of the FPL.
With Medi-Cal you can have one plan for the entire family or each member on a different plan.
In January 2014, the ACA required that most U.S. citizens and legal residents be enrolled in health coverage that meets minimum standards. Those who do not have coverage may have to pay a penalty. This is to ensure that people can take advantage of the health and financial benefits of insurance, but also to make it possible to implement many of the insurance market reforms included in the Affordable Care Act.
For 2020 the Federal Mandate is not in place but the State of California is enforcing the mandate that everyone have health insurance.
---
Accent Insurance Brokerage
Helping you find wellness with health insurance and risk management solutions that make sense.
26477 Rancho Parkway South
Lake Forest, CA 92630


Fax 949-699-1069
This web site is owned and maintained by Melissa Shaw, CFP® which is solely responsible for its content. This site is not maintained by or affiliated with Covered California, and Covered California bears no responsibility for its content. The email addresses and telephone numbers that appear throughout this site belong to Melissa Shaw, CFP® and cannot be used to contact Covered California.